HUNTER 486: AN UNFORGETTABLE DINING EXPERIENCE
The night is brisk and the cab ride through Regent's Park near London's Camden is a quick one. The scene outside the window melts from trees and grassy fields to charming streets lined with townhouses and boutiques as the driver heads to The Arch London Hotel by the Marble Arch landmark.
Although not staying at this gorgeous hotel, I am en route to their in-house restaurant — Hunter 486 — to enjoy a meal that I anticipate will single handedly prove British cuisine is far from being forgettable. Hunter 486 — named after the 1950s dialing code for Marylebone — is a charming restaurant with a quirky style and open kitchen where skilled chefs can be observed.
Atmosphere
I arrive at Hunter 486 and am immediately swept into an elegant ambiance where leather banquettes compliment the rich mahogany flooring. The space is classic London glamour and seems to mirror the hotel's boutique style. Sleek lighting fixtures hang overhead; red velvet loveseats and leather chairs stand alongside set round tables. The décor is minimalist yet lends an air of class and charm to the restaurant experience.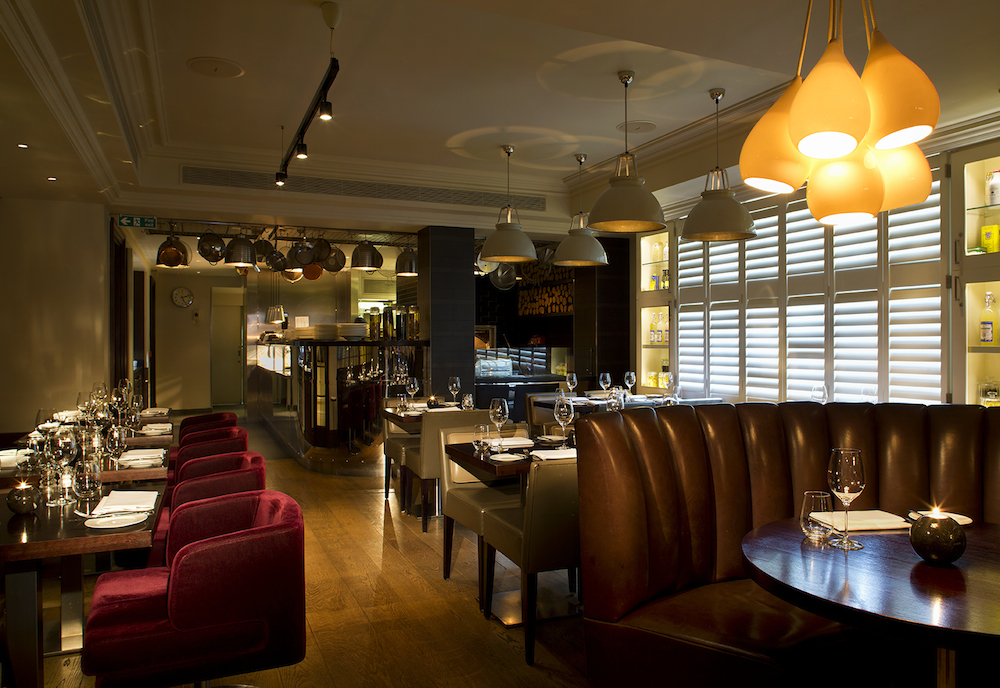 Service
From the moment my cab pulls up at The Arch London, I am greeted by doormen with wide smiles and who pull open double doors that sweep me away into the hotel's lobby and adjoining restaurant. The hostess at Hunter 486 exudes London charm and leads my guest and I to our table, engages in polite conversation, and checks in throughout the meal that we are content. If a restaurant experience is only as good as its food and service, then right off the bat Hunter 486 leaves a fabulous impression. The staff is attentive and professional, serving water, clearing plates and doling out bread like an orchestrated dance.
Food
Once seated, my friend and I are poured water and handed freshly made bread. It's worth mentioning that the bread — particularly the homemade soda bread — is so unexpectedly delicious that it takes immense restraint not to inhale the whole breadbasket at rapid speed. My companion and I are having a love affair with the soda bread; practically having a metaphysical crisis over it, when the first course — a thinly sliced Beef Carpaccio with delicately shaved, aged Parmesan and a drizzle of truffle dressing — materializes in front of us. The appetizer is light and perfect; exactly the way you'd hope to start a meal, with a punch of flavor that leaves you with plenty of room to indulge in the upcoming courses without difficulty.
The Beef Carpaccio is washed down with red wine as we anticipate our main courses — mine a Scottish rib-eye steak with a béarnaise sauce and grilled mushrooms and tomato and his a grilled lemon sole with homemade French fries.
Admittedly, the appetizer and soda bread are a hard act to follow and with my companion's deboned fish served chock-full of bones and my steak slightly overdone, the main courses fall short of expectations, a disappointment after such a promising opening act. Although the rib-eye has the unfortunate fate of being a bit too fatty, the Béarnaise sauce is utter perfection and seems to rise to the defense of the meat in an effort to save the dish. Similarly, the lemon sole proves delicious and I watch as my friend navigates the tiny bones like a landmine in hopes of enjoying whatever succulent fish he can excavate.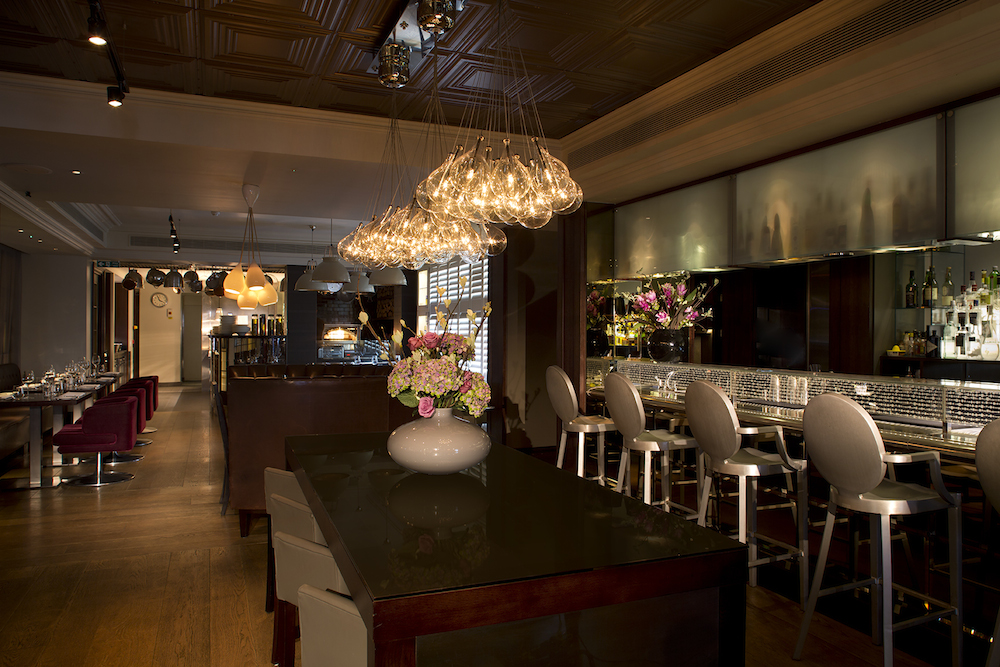 Plates are swept away, wine is poured and spirits are high, as the friendly staff never falters in keeping water glasses filled, tables cleared promptly and smiles affixed. Dessert arrives and with it all the promise of a dinner finale that will forgive the difficulties of the second act and leave only the memories of a strong beginning and stronger finish. Apple and pear crumb is whisked out of the kitchen and arrives in a fragrant, sweet cloud of warmth and comfort. The dessert is utterly delicious and served with ice cream that mingles the cold treat with the warm crumble. My friend is scooping up dollops of raspberry sorbet that is the best I've tried — it is fresh, flavorful and so authentic in taste it seems the sorbet must have been found in nature rather than whipped up in the kitchen.
* * *
As the evening draws to a close and drifts off on a sea of Malbec, I can't help but recall a story by Chef and Author Anthony Bourdain and his search for the world's perfect meal. After traveling around the globe enjoying (or at times suffering) through various bites, it finally dawned on him that the perfect meal isn't measured in price or courses but rather is made perfect by the experience as a whole. At Hunter 486, dinner may have had some minor snags yet it still proved perfect because of the impeccable service, delectable courses, good wine, and company that left me with a wonderful experience I won't soon forget.
*Note: Nikki's meal was paid for by The Arch London. Learn more about their hotel and other amenities here. Photos courtesy of the Arch London.